It's time for the Spring Fling Kidlit Contest! 
Rules:
Stories should be for kids ages, 12 or under
use a GIF to inspire your story
use no more than 150 words (mine is exactly that)
no illustration notes
How could I resist this GIF from giphy.com????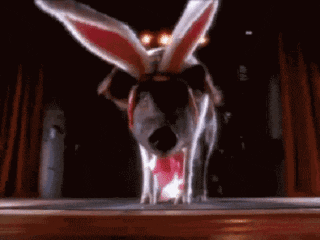 NEVER TRUST AN EA(S)TER LION
By Jilanne Hoffmann
It was time for the Easter Ballet, and Bunny was missing.
Backstage, Elephant yelled, "Who can dance Easter Bunny's part?" 
"Me!" said Cat. "Bunny's toe shoes fit my paws."
"I know Bunny's steps!" said Pig. "I've got the best memory of everyone."
"Really?" said Elephant.
"Of the dancers," said Pig. "You're the director." 
"My nose wiggles like Easter Bunny's," said Llama.
"I would be a diabolical Bunny!" Lion gnashed his terrible teeth. "And I could eat all of—"
Lion paused and picked his fangs with a claw.
Cat, Pig, and Llama shuddered. 
"You can be Easter Bunny," they whispered. 
"YOU ATE EASTER BUNNY?!" yelled Elephant.
The stage door flew open.
"I can't find my eggs!" cried Easter Bunny. "Lion sent me on a phoney egg hunt."
"Lion?"
Elephant glared. 
"Fine." Lion pulled a basket from beneath his mane. "I only ate one egg. Bunny ears look silly on me, anyway."
*******************************************************************
And there you have it, folks! My GIF-inspired entry to celebrate spring! I hope you are all healthy!